Isotope measurements on chitinous invertebrate remains
The stable isotopic composition of individual lake sediment components, particularly organic remains of invertebrates and algae, can provide information on past environmental conditions in and around lakes as well as on past changes in ecosystem processes within lake ecosystems. We study the stable carbon isotopic composition of organic remains in lake sediment records to provide information on the past importance of methane as a carbon source for aquatic foodwebs, and for reconstructing past changes in the carbon cycle of lakes. Furthermore, we also explore the potential of stable hydrogen, nitrogen and oxygen isotope measurements on lake sediment components for reconstructing past changes in lacustrine foodwebs and past climate change. This work was initiated by the ERC Starting Grant Project RECONMET (2010-2014).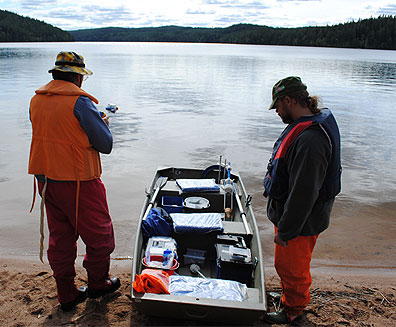 Recent presentations
Heiri, O
Invertebrate remains as indicators of past methane availability in lakes
40th International Moor Excursion. 6.9.2016, Gerzensee, Switzerland

Heiri, O
Invertebrate δ13C as a proxy for reconstructing past carbon cycling in lakes? Lessons from the RECONMET project.
Workshop on Stable isotopes in fossils and organic compounds from lake sediment records. 28-29.7.2016, University of Southampton, Southampton, UK

Heiri, O
Carbon isotopic composition of chitinous invertebrate remains: An indicator for reconstructing past changes in methane cycling in lakes?
Current Topics in Geosciences Seminar series, Department of Environmental Sciences, University of Basel. 20.5.2015, Basel, Switzerland.

Heiri, O
Environmental impacts on the importance of methanogenic carbon in lake foodwebs: evidence from lake sediment studies
Aquatic Sciences Division Spring Seminar, University of Jyväskylä, 14-15.4.2015, Jyväskylä, Finland.

Schilder, J; M. van Hardenbroek, P. Bodelier, E.P. Kirilova, M. Leuenberger, A.F. Lotter, O. Heiri
Productivity changes affect the importance of methanogenic carbon in the food web of a small temperate lake
ASLO Aquatic Sciences Meeting. 22-27.2.2015, Granada, Spain.
Participants
Internal
Oliver Heiri, Päivi Rinta, Jos Schilder, Tabea Stötter, Marina Morlock
External
Markus Leuenberger (OCCR), Paul Bodelier (NIOO Wageningen), Jonathan Grey (Queen Mary University London), Maarten van Hardenbroek (University of Southampton), Roger Jones (University of Jyväskylä), Paula Kankaala (University of Eastern Finland), David Bastviken (University of Linköping), Dan McGinnis (University of Geneva), Beth Okamura (Natural History Museum London), Carsten Schubert (EAWAG), Mat Wooller (University of Alaska Fairbanks)